We learned a lot today; well, actually, no, we didnt. Having gone through multiple major storms and events, we in Arlington seem to continue to make silly mistakes.
First, let me say this. Before I realized just how much damage there was to the area, we drove around. Unqualifiedly, the people in Arlington were the best behaved and the most cooperative. This was just something we had to get through, and we were all in it together. People at dark traffic lights stopped (mostly). People in businesses and stores were friendly. Arlington was an oasis of decency in a sea of people who just had to get nowhere in a hurry.
The worst behaved?? OH that's easy! Georgetown where in the aftermath of a storm G'Town still decided to shut down multiple roads for unrelated construction, making it all but impossible to get through the neighborhood - and the construction guys were actively yelling at drivers who were trying to make heads or tales of what to do.
But what did we not learn?
Communications. Communications from Arlington VA just SUCKED. Can I say this, and everyone else say "Amen":
DO NOT PUT EMERGENCY INFORMATION ON A WEBPAGE only.
DO NOT TELL ME THE INFORMATION I NEED IS ON THE WEBSITE.
I dont have power. I dont have net access. The mobile phone network is overloaded. And even if I could access your website on my phone, I cant read it because you didnt format it for a mobile phone screen.
Say this with me: "Emergency information needs to be disseminated in the lowest bandwidth possible, and in as many mediums as possible - so as to reach everyone." There is a webdesign technique known as "Slash Dot" or /. This means you remove all graphics and all formatting from emergency information pages, and just have the text. This turns information into a lowest common denominator format that can be downloaded on any device, and it means the information does not clog an overwhelmed network.
Next, get the information out there. The best source for info concerning local events, like an emergency? Twitter. Dont tweet: "The information is on the website." Tweet the information. For example, tweet where the cooling centers are.
Email is also an effective means of communicating. It gets to people. Send out emergency information, in the email (not linking to the information on a webpage), with no pictures and no formatting.
And dont send out noise. Dominion Power, I am calling you out on this one. Stop saying you cant answer all questions on twitter because you will hit the twitter-limit of tweets per day, while you are sending out pointless tweets with pictures and video and other ra ra stuff that we cant see cause we dont have power. Tweet information, nothing more.
Other lessons learned:
Arlington VA has no plans that include care for pets or animals. That was a big lesson from Katrina. Yet in all of Arlington's announcements, I did not see any information about cooling stations opened for pets. I contacted the county. I contacted AWLA. I contacted rescue groups. After a few days there were announcements that Petsmart was welcoming pet owners into stores as cooling stations. The lack of plans that include pets has got to change.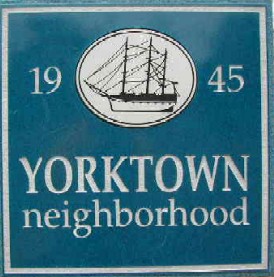 Where were Arlington Civic Associations in all this. This is once again proof that the
Arlington Way
has got to change. The Arlington Way is premised on periodic physical meetings in the all purpose rooms of schools to discuss some topic. Physically meeting during an evening is a luxury many Arlington (two parent working with kids) families cannot afford. It means that the Arlington Way is pursued by those few with the luxury of such abundant free time. The Arlington Way needs to change to an interactive online format that can be engaged anytime anywhere.
In this case, where there is an interactive listserv associated with a civil association, that email group can share information about restoration, recovery, food, cooling centers, dangers... Neighbors who have can help neighbors who havent. Yorktown Civil Association has a
facebook page
where neighbors have been sharing restoration information. Some civil associations have interactive online presences; most do not. This needs to change.
Where were the churches in all this? We have all these huge churches in Arlington, that sit as big empty buildings most of the week.... sometimes all of the week. Did they respond? Did they help their neighbors around them? I only heard of one group that opened their doors as a cooling center. This is sad.